The Port of Grimsby is one of the UK's leading automotive ports and a major hub for the burgeoning offshore wind industry. The port also continues to handle a wide range of other cargoes, whilst retaining strong links to the fishing and food industries. Together with ABP's other ports on the Humber Immingham, Hull and Goole, it provides an unparalleled gateway for the trade connecting businesses across the UK, Europe, and beyond.
Throughout our network of 21 ports around Britain, our expert and highly-trained teams are ready to work in partnership to deliver the solutions your business needs.
Backed by a programme of ongoing investment, our ports provide leading facilities and equipment, operated by our expert teams who can safely and efficiently handle a wide variety of different cargoes.
The Port of Grimsby plays a vital role in the handling of a range of different cargoes, with the 550-acre port servicing around 1.1 million tonnes of cargo each year. As well its role in the UK automotive and offshore wind sectors, Grimsby also routinely handles fresh produce, dry bulks, forest products, steel, minerals and ores as well as agribulk cargoes.
Every year ABP is proud to sponsor the Humber Coastal Half Marathon. Around 2,500 runners from around the country take part in the scenic run to raise money for local good causes. The port is also heavily engaged in supporting a range of other charities.
Slider counter
Number of slides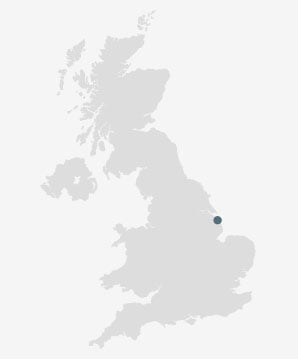 Connectivity
The Port of Grimsby is located just seven miles (11km) from the open sea, on the south bank of the River Humber and within easy reach of the UK's industrial heartland. The M180/A180 dual carriageway runs right to the dock entrance, providing fast links to the M18 and M1. There are also direct quayside rail connections which link the port to the national railway network.
Delivering for customers
The Port of Grimsby is a leading UK major car import terminal, importing around 500,000 vehicles each year, and is at the forefront in serving the developing offshore wind energy industry.
Traffic is handled at two dedicated Ro-Ro berths in Alexandra Dock, backed by a modern and efficient terminal, offering pre-delivery inspection and accessory-fitting services. The Grimsby River Terminal represents a recent £26 million investment to develop a two-berth facility capable of handling vessels carrying up to 3,000 vehicles.
Grimsby is an established centre of excellence for operations and maintenance activities for Round 1 and 2 wind farms in the North Sea and the port offers a number of sites suitable for the development of the O&M industry, as well as other offshore wind-associated activities.
ABP's Humber ports support
34,900 jobs
across the UK
Handles over
1.1 million
tonnes of cargo per year
Humber ports handle
£75 billion
of trade every year
Key statistics and berthing information
Total port area: 550 acres
 
Normal acceptance dimensions of vessels
Dock, Jetty or Quay
Length
Beam
Draught
Approx. dwt
Commercial Docks
145.0 m*
20.5 m
5.8 m
6,000
Fish Docks
73.0 m
12.8 m
5.8 m
 
*Longer vessels may be accepted subject to Harbour Master approval