The Port of Hull is the UK's leading softwood timber port and the focus of the offshore wind sector on the Humber, the UK's energy estuary. The multi-million-pound investment in the Hull Container Terminal (HCT) has cemented Hull's position as a leading gateway for trade, offering reliable and resilient supply chain solutions from around the world. Adjacent to the port, the Humber International Enterprise Park (HIEP) is one of the largest development sites in the north of England.
The Port of Hull handles approximately 10 million tonnes of cargo, amounting to around £12 billion in trade each year.
As well as containers, ferry travel and Ro-Ro, Hull specialises in handling forest products and a range of bulk commodities.
Hull is also home to the UK's first fully-enclosed cargo-handling facility for weather-sensitive cargoes such as steel and bagged products.
A key gateway on the UK's busiest trading estuary, the Humber, the Port of Hull supports 12,000 jobs and contributes over £800 million to the economy every year.
ABP's continued investment in infrastructure, equipment and systems, ensures the Port of Hull is capable of delivering the supply chain solutions our customers need.
It has a team dedicated to safely delivering the highest standards of customer service, ready to work in partnership to help our customers' businesses to grow.
Every year ABP is proud to sponsor the Humber Coastal Half Marathon when 2,500 runners from around the country take part in the scenic run to raise money for local good causes. The port is also heavily engaged in supporting a range of other charities.
Slider counter
Number of slides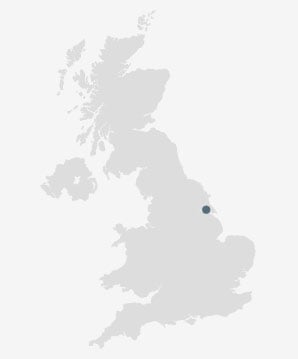 Connectivity
The Port of Hull on the north bank of the Humber Estuary is just 20 miles (32km) from the North Sea. The port is connected by dual carriageway road links to the M62 and to the M18 and M1, to service the whole of the British Isles. It is also connected to the inland waterways system.
Delivering for customers
Hull Container Terminal (HCT) at Queen Elizabeth Dock handles over 100,000 containers each year for Samskip, which provides daily week-day sailings to Rotterdam, and MacAndrews, which provides two sailings a week to the Baltic States.
Hull provides comprehensive storage solutions for all types of container, including refrigerated units and hazardous goods, offering extensive covered and open storage space, with state-of-the-art handling equipment.
A wide range of paper products and specialist paper-handling vessels can be accommodated at the Finland Terminal, which has more than 70,000sqm of covered storage. Hull Cold Store has over 24,000cu m cold storage and is equipped with a 10,000-pallet capacity that can freeze products down to -25ºC. Storage facilities for general cargo incorporate over 40 transit sheds covering 230,000sqm and 65ha of open storage. Operating from Terminal 1, P&O's Hull-Rotterdam daily ferry service is the gateway to Holland and Germany for freight, car, and passengers. The overnight service takes 12 hours.
Along with its sister port at Immingham, the Port of Hull's capacity is being significantly increased to meet growing customer demand, following a £50 million investment across the two ports.
Green Port Hull, at the heart of the 'UK's Energy Estuary' was opened at the port in 2017, a £310 million joint venture between ABP and Siemens creating a renewable energy hub with world-class offshore wind turbine blade manufacturing, assembly, and servicing facilities as its centrepiece.
Port of Hull handles
9.7 million
tonnes of cargo every year
Provides
65ha
of open storage
Humber ports handle
£75 billion
of trade every year
Key statistics and berthing information
 
 
 
Normal acceptance dimensions of vessels
Dock, Jetty or Quay
Quay Length
Depth of Water
Length
Beam
Draft
Approx. dwt
Saltend Jetty No.1
 
9.8 m (tidal)
214.0 m
40.2 m
10.4 m
37,000
Saltend Jetty No.3
 
9.8 m (tidal)
214.0 m
40.2 m
10.4 m
37,000
King George & Queen Elizabeth Docks
5,069 m
11.3 m (impounded)
199.0 m
25.5 m
10.4 m
34,000
River Terminal 1
 
7.0 m
215.0 m
32.0 m
6.5 m
12,000
Alexandra Dock
4,082 m
8.3 m
153.0 m
23.7 m
7.9 m*
9,000
Alexandra Dock extension
 
8.3 m
122.0 m
19.7 m
7.9 m*
6,000
Riverside Quay
325 m
4.8 m (tidal)
 
30.0 m
4.5 m
4,500
Albert & William Wright Docks
3,453 m
6.5 m
122.0 m
22.0 m
7.0 m
5,000
Dry dock facilities 
Net length
Width of dock at cope
Width of entrance 
Depth of water
 
 
 
 
At MHWS
At MHW
Alexandra Dock No. 1
139 m
24.6 m
17.2 m
5.4 m
3.9 m
Alexandra Dock No. 2
153 m
27.1 m
18.6 m
6.1 m
4.6 m
Alexandra Dock No. 3
137 m
25.9 m
15.2 m
6.5 m
5.0 m
Hull Container Terminal (HCT) open for road operations;
Monday - Friday 0500 – 2200
Saturday 0500 – 1300
Sunday Closed
*bank holidays time may vary
Shipside operations 24/7
For ABP's standard terms and conditions, please click here.