The Port of Troon plays an integral role in Scotland's supply chains and is situated on the west coast of Ayrshire, near to the Royal Troon Golf Course. Together with ABP's port of Ayr, it contributes around £42 million to the UK economy. The Port of Troon is home to Timberlink, a sustainable distribution service which handles over 100,000 tonnes of timber each year across Scotland and Ireland.
Throughout our network of 21 ports around Britain, our expert and highly-trained teams are ready to work in partnership to deliver the solutions your business needs.
Backed by a programme of ongoing investment, our ports provide leading facilities and equipment, operated by our expert teams who can safely and efficiently handle a wide variety of different cargoes.
The Port of Troon is a well-established and well-supported fishing port, but also has a crucial role in the UK's timber trade, as well as handling an array of project cargoes. It is also a destination for smaller cruise vessels, that are able to berth at either West Pier or Wee Hurry (see below for more berthing information) providing access to the very best tourist attractions Scotland has to offer.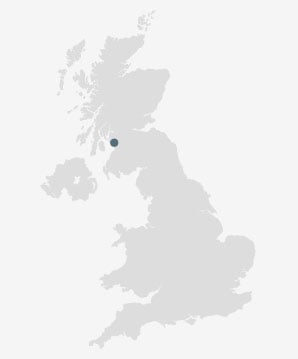 Connectivity
The Port of Troon, just 35 miles (56km) from Glasgow, is situated on the west coast of Scotland on the Firth of Clyde and sheltered by the Isle of Arran across the water. Trunk roads connect the port to the M74 and M77, which leads to Glasgow and the M8 for Edinburgh.
Just five miles (8km) away, Glasgow Prestwick Airport provides a network of global air links while Troon railway station is located just over one mile away.
Delivering for customers
ABP operates the ground-breaking TimberLINK service on behalf of Scottish Forestry, which ships up to 100,000 tonnes of timber a year from the Argyll ports of Ardrishaig, Campeltown and Sandbank to Ayr and Troon where it is dispatched to local wood processing plants. As well as helping to ensure economic development around the local ports, the service removes around 8,000 lorry journeys – or nearly 1 million lorry miles – a year from roads between Argyll and Ayrshire.
The port also provides year-round sheltered berths and is equipped with an ice factory and on-site engineering facilities to support the fishing industry. An extra 158 metres of quayside is available for larger fishing vessels.
Troon is an ideal Port for smaller cruise liners and superyachts, perfectly located in the heart of Scotland's Southwest Golf country, with many courses a short walk or drive away. The town of Troon, with its many restaurants, bars and beaches, makes a great base from which to explore world-class tourist locations such as Robert Burns sites, Culzean Castle, Dumfries House, or the Isle of Arran. Prestwick International Airport, Glasgow and Edinburgh are within easy reach by road or rail.
The Port of Troon is also home to a Ro-Ro berth which is capable of offering resilient ferry and Ro-Ro services to a range of destinations in Scotland and beyond.
The East Pier has recently undergone extensive upgrade and infrastructure works in order to accommodate the Caledonian MacBrayne ferry service to the Isle of Arran during the refurbishment of Ardrossan Harbour. The works included the construction of a brand new ferry terminal, resurfacing of the marshalling lanes, and a new car park layout with additional parking spaces. Find out more here.
Slider counter
Number of slides
Port of Troon handles over
100,000
Tonnes of cargo every year
Provides around
160
Metres of quayside
ABP contributes
£7.5 billion
to the UK economy per year
Key statistics and berthing information
Total port acreage = 40 acres
 
 
 
Normal acceptance dimension of vessels
Dock, Jetty or Quay
Quay length
Depth of Water
Length
Beam
Draught
Approx. dwt
West Quay
140 m
6.7 m
110 m
No restriction
6.2 m
4000
Wee Hurry
158 m
6.0 m
110 m
No restriction
5.5 m
3500
Portland Quay
105 m
6.0 m
100 m
No restriction
5.5 m
3500
East Pier Ferry
N/A
8.6 m
160 m
Restricted only by ramp dimensions at low water
5.4 m
10000
Inner Basin
1,372 m
6.0 m
55 m 
12.2 m
5.5 m
N/A
Marine Information
For marine information please click here.
For ABP's standard terms and conditions, please click here.