The Port of Ayr is the first commercial port encountered by vessels entering the Firth of Clyde. Together with our customers, ABP's Scottish ports of Ayr and Troon contribute over £40 million to the UK economy every year, including £28 million locally. Every year, the Port of Ayr handles 340,000 tonnes of cargo and we have the appetite, capacity and capability to handle more.
Throughout our network of 21 ports around Britain, our expert and highly-trained teams are ready to work in partnership to deliver the solutions your business needs.
Backed by a programme of ongoing investment, our ports provide leading facilities and equipment, operated by our expert teams who can safely and efficiently handle a wide variety of different cargoes.
ABP's Port of Ayr specialises in handling dry bulks, including salt, animal feed, heavy lift and forest products, of which it handles around 25,000 tonnes each year.
As it is surrounded by world-leading golf courses, the port is also an attractive destination for cruise passengers who also benefit from the ports' extensive car parking and marshalling facilities.
The port has a team dedicated to safely delivering the highest standards of customer service, ready to work flexibly and collaboratively with our trade partners to give them the facilities and the room they need to grow their businesses.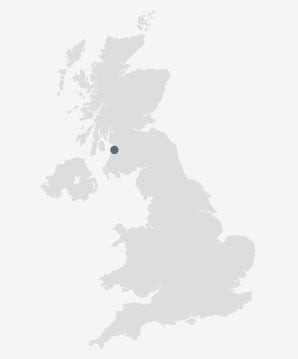 Connectivity
Situated on the West Coast of Scotland at the entrance to the Firth of Clyde, the Port of Ayr has easy access to rail networks and via trunk roads to the M77 for Glasgow, M8 for Edinburgh, and M74 for links to Northern England.
It is just 34 miles (55km) south west of Glasgow and close to Glasgow Prestwick Airport.
Slider counter
Number of slides
Delivering for customers
All ABP's ports offer the latest state-of-the-art facilities and equipment dedicated to handling a wide range of cargoes.
The Port of Ayr offers over 17,000sqm of storage for weather-sensitive cargoes and 2.7ha of open storage space.
As part of our continuous investment programme to deliver the best possible customer service, we recently procured a £700,000 Scottish-built 12.75m pilot vessel which will further enhance our Scottish ports' ability to handle vessels in all weather conditions.
In March 2018, the Port of Ayr became the first port in the UK to purchase the latest Liebherr Materials Handler crane, as part of our commitment to offer customers the benefits of the most advanced cargo-handling technology.
In January 2019, we announced a £2.2 million investment in a new state-of-the-art warehouse at the Port of Ayr offering flexible storage solutions for a range of customers. The new, 4,000sqm facility will be located on the west side of Griffin Dock.

The Port welcomes cruise liners at anchor, where passenger transportation by tender to shore is facilitated by our pontoon and modern amenities. Located in the centre of Ayr, the Port is a short walk to the town's High Street and beach, as well as with easy bus and rail access to the main Ayrshire sites, Glasgow or further. The Paddle Steamer Waverley is a regular visitor boarding day trippers from Ayr several times each year.
Port of Ayr provides
17,000sqm
of specialist storage for weather-sensitive cargo
Provides
2.7ha
of open storage
Handles over
340,000
tonnes of cargo per year
Key statistics and berthing information
Total port acreage = 40 acres
 
 
 

Normal acceptance dimension of vessels


Dock, Jetty or Quay
Quay length 
Depth of Water
Length
Beam
Draught
Approx.dwt
Griffin Dock
610m
6.0m
95m
18m
5.8m
3500
River berths
549m
6.7m
110m
No restriction
6.2m
4000
For ABP's standard terms and conditions, please click here.