The Port of Teignmouth on the South coast, serves South West England and is a key hub for the construction, agriculture and ball clay markets. Backed by investment which has seen a deepening of berths, this growing port is well-positioned to build on the 460,000 tonnes of cargo it handles each year.
Throughout our network of 21 ports around Britain, our expert and highly-trained teams are ready to work in partnership to deliver the solutions your business needs.
Backed by a programme of ongoing investment, our ports provide leading facilities and equipment, operated by our expert teams who can safely and efficiently handle a wide variety of different cargoes.
The Port of Teignmouth is ideally situated to serve the ball clay export industry and handles over 150,000 tonnes of clay each year. The port also imports around 100,000 tonnes of animal feed each year, providing a convenient and reliable route for the farming industry in the South West.
The port also handles a wide variety of other dry bulks including grain, agribulks, stone chippings, salt, and forest products, as well as heavy lifts and abnormal loads.
Together with its customers, ABP's ports of Teignmouth and Plymouth contribute over £110 million to the UK economy every year, supporting 1,600 jobs nationally.
The port has a team dedicated to safely delivering the highest standards of customer service, ready to work in partnership to help our customers' businesses to grow.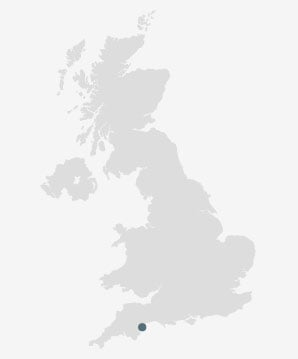 Connectivity
ABP's network of ports around Britain benefit from excellent marine access. Our ports also offer efficient road and rail links, providing swift access to destinations throughout Britain.
From the Port of Teignmouth, the nearby M5 motorway provides easy access to the Midlands and direct access to London via the M4.
There are direct rail services from Teignmouth to Birmingham New Street and London Paddington.
Delivering for customers
All ABP's ports offer the latest state-of-the-art facilities and equipment dedicated to handing a wide range of cargoes.
ABP investment in the Port of Teignmouth has deepened berths and created 3,000sqm of new transit shed accommodation for larger and more frequent vessels and enhanced ship turnaround times.
The port has GAFTA UKASTA approved warehousing with separate storage bays for organic cargoes, as well as open storage space for timber.
Teignmouth's warehouse facilities all have load-bearing walls and are capable of storing virtually any type of cargo.
Slider counter
Number of slides
Port of Teignmouth has
3,000sqm
Transit shed accommodation
ABP in the South West supports
1,600 jobs
across the UK
Handles over
460,000
Tonnes of cargo per year
Key statistics and berthing information
Total port area = 7.5 acres
 
 
Normal acceptance dimension of vessels
Dock, Jetty or Quay
Quay length
Length
Beam
Draught
Approx. dwt
Eastern Quay
119 m
120 m
No restriction
5m
5,000
Western Quays
300 m
124 m
No restriction
5 m
5,000
Marine Information 
For marine information, please click here.
For ABP's standard terms and conditions, please click here.