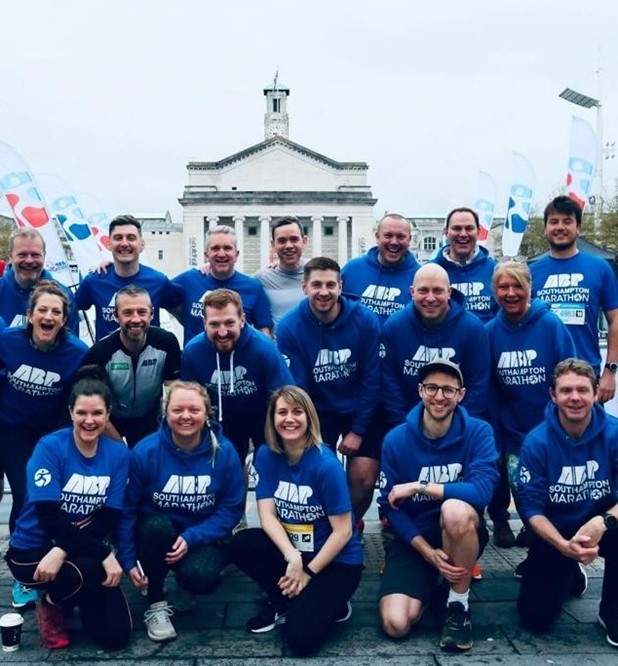 Thousands of runners took to the city's streets on Sunday 2 April to participate in one of the best-loved south coast events. The events, managed by Rees Leisure, and sponsored by ABP, offer runners a selection of races, including a full marathon, half marathon, 10K and 5K, opening the event up to broader community running groups with mixed abilities.
Starting at Southampton Guildhall, the race headed straight down Above Bar through the parks and towards the docks. The full marathon, half marathon and 10K took runners onto the Itchen Bridge before heading to Woolston and then back again! The full marathon covers two laps around the city, including a run through the Southampton Football Stadium before heading to Riverside Park, Southampton University and Southampton Common. The half marathon follows the same route but is just one lap.
Hundreds of charity runners participated in the race to represent and raise money for local and national charities. ABP's team of runners were supporting Young Lives vs Cancer, ABP Southampton's charity of the year for 2023.
Congratulations to Nicholas Curtis for completing the full marathon in 2 hours and 41 minutes, followed by Hannah Curtis, the quickest female marathon runner, with a time of 3 hours and 24 minutes.  The impressive pace continued for the half marathon, with Ben Holmes taking just 1 hour and 12 minutes to complete the course, and Tina Christmann finishing at 1 hour and 23 minutes.  The quickest time for the 10k was 32 minutes, and 19 minutes for the 5k.
ABP Southampton Regional Director, Alastair Welch, said: "We are very proud to be part of such a large community event that attracts thousands of runners each year. It's always a great atmosphere and very well organised. The fact that it offers four different races means more people can join the fun!"
Event Organiser and Managing Director of Rees Leisure, Chris Rees, said: "The event has been a huge success with perfect running conditions and a fantastic atmosphere.  It highlighted just how important the annual racing event is for the community and people's well-being.  We had over 1000 charity runners yesterday raising money for local and national causes' this year marks £3 million pounds raised for charity since the start of the event in 2015."