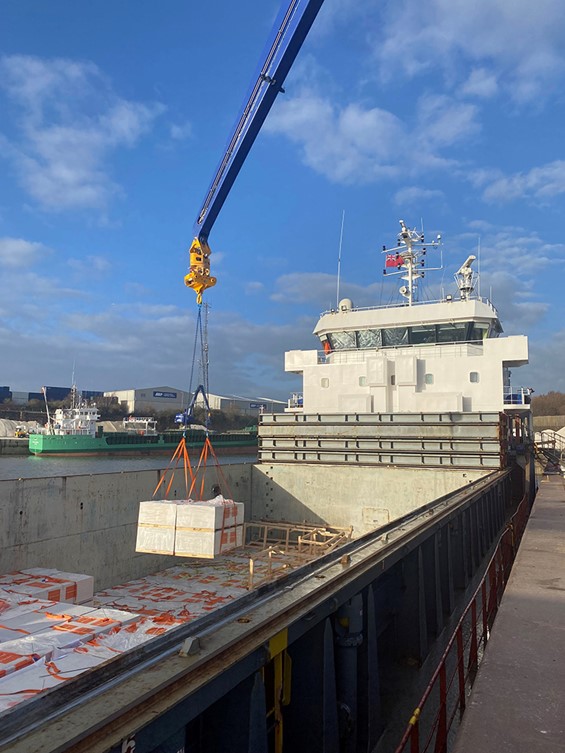 Unloading fermacell® fiber gypsum pallets from cargo vessel at the Port of Garston
Associated British Ports (ABP), the UK's leading ports group, has welcomed a shipment of 1,700 pallets of fermacell® fiber gypsum boards (fermacell boards), which will be used in the construction of the new Everton Stadium on Bramley Moore Dock in Liverpool.
The shipment of approximately 3,500 tonnes of fermacell boards supplied by James Hardie Building Products Inc. (James Hardie) arrived on the MV Marian R at ABP's Port of Garston on Tuesday 31 January 2023 from the Port of Santander in Spain. 
The fermacell boards, shipped by H. Daugaard, the Danish logistics company, is to be used to dry line the stadium's internal wet-room areas, which includes the changing rooms, as well as toilets, kitchens, canteens and the concourse areas, before being plastered.
The construction of the new 52,888-seater stadium, which will replace Goodison Park, started in the summer of 2021 with the backfilling of Bramley-Moore Dock. The stadium is scheduled to be completed before the start of the 2024/25 season at an estimated cost of £500m.
Andrew Harston, Regional Director for ABP's Wales and Short Sea Ports said:
"The Port of Garston is strategically located on the north bank of the River Mersey, and seven miles from Liverpool's city centre and the riverside site of the new stadium.
"The port specialises in handling a wide array of cargo, from dry bulks to steel products and annually handles around 500,000 tonnes of cargo and contributes around £360 million to the UK economy every year.
"It is fantastic that ABP is able to play a role in supporting the construction of this £500m project, which will provide the new home for Everton F.C."
Palle Mogensen, Director for H. Daugaard said:
"H. Daugaard offers customised logistics solutions across Europe, and we were delighted to work with ABP's team at the Port of Garston to ensure the safe transit of the James Hardie fermacell boards, which are being used for such an exciting project.
"For this operation, H. Daugaard coordinated the logistics operations for the shipment from Santander to Garston on the M/V Marian R vessel, and ABP was a professional, reliable and flexible partner to work with throughout the whole operation." 
Together with the Port of Garston, ABP owns 21 ports around Britain, which offer unparalleled marine, road and rail access to domestic and international markets.