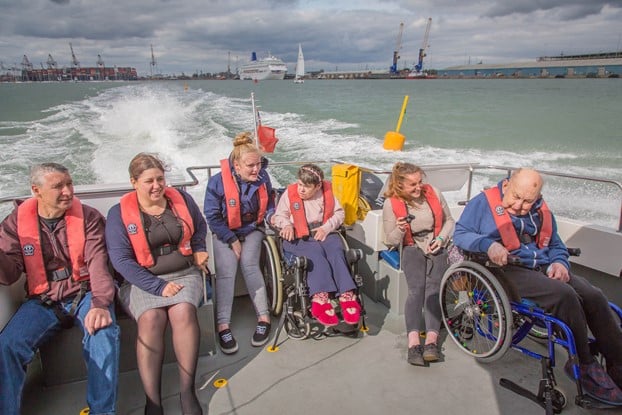 People with disabilities experience Southampton Water with Wetwheels  
ABP's Port of Southampton is pleased to announce that Wetwheels has been chosen as its Charity of the Year for 2022, voted for by ABP Southampton Region staff.
Wetwheels provides boating opportunities for people with disabilities. Accessible to all disabilities, including wheelchair users, Wetwheels focuses on shared experiences with friends and family and gives all participants the chance to drive a boat and learn basic seamanship in a safe and fun way. Its boats in Southampton and Portsmouth together provide around 3000 opportunities annually for people to enjoy the water.
Each year, ABP Southampton selects a charity that staff can fundraise for. Charities who have a strong presence in Southampton or Hampshire are nominated by employees, with all employees then having the chance to vote for their preferred charity from a shortlist. Money raised this year will go directly to Wetwheels' Hamble and Solent branches.

Andy Fell, Chairman of the Wetwheels Foundation, says: "We are absolutely delighted to have been chosen as ABP's Charity of the Year. It is wonderful recognition for the work we do locally and will help not only raise much-needed funds but also shine a light on our work with disabled people of all ages across the region by providing barrier-free boating experiences in our rich and diverse coastal waters. We look forward to a year of fun and excitement on the water and working with ABP and their employees."

Alastair Welch, Regional Director of ABP Southampton, says: "Charity of the Year is an important and special initiative to us because we get to contribute to causes that matter to our people, who often have a personal experience of that charity. That is the case with Wetwheels, which serves such a great purpose by giving people with disabilities the opportunity to experience something they might not otherwise. We are thrilled to be working with them this year."