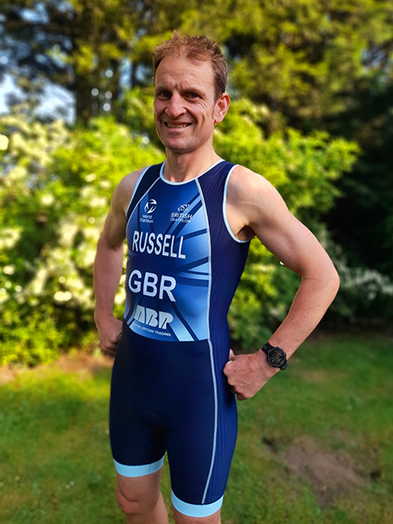 Gareth Russell proudly wearing his Team GB Tri-suit
Associated British Ports (ABP) is thrilled to be supporting one of its colleagues in his quest for gold in the World Triathlon Sprint and Relay Championships in Canada for Team GB.
Gareth Russell, Head of Business Development (Humber) heads to Montreal next week for his first international race of the year with the British squad in the 2022 World Sprint Triathlon Championships and World Mixed Team Relay Championships.
ABP has sponsored Gareth's GBR Tri suit and he'll be proudly wearing the blue suit complete with ABP logo in his events, which include swimming, cycling, and running.
Simon Bird, Regional Director for the Humber ports said: "We're delighted to be sponsoring Gareth in his quest for the Championships. We wish him well in his events and we'll be cheering him on."
Gareth, who only became involved in the sport in 2019, said: "I have absolutely no expectation of a podium position as it will be my first year in Team GB and the standard of athletes is seriously high. 
I'm going to give it everything I've got, but to get to the start line wearing my GBR tri suit and proudly displaying the ABP logo will be a proud moment. Competition to get here was very strong, and I'm delighted to have been selected and very much looking forward to the events."
Gareth, who lives in East Yorkshire, has been training nine sessions per week with a mix of speed, endurance, strength and technical in all three disciplines.
The World Triathlon Groupe Copley Championship Series competition venue is located at Le Grand Quai of the Port of Montreal, which is based in the heart of the city. The competition in Canada runs from Wednesday 22nd June to Sunday 26th June.
Gareth will also be competing at the World Aquathlon Championships in Bratislava in August; the European Aquathlon Championships in Bilbao in September, and the World Super Sprint Triathlon Championships and World Aquabike Championships in Abu Dhabi in November.