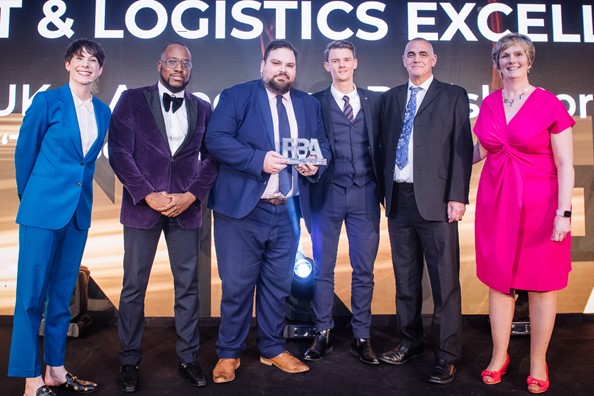 ABP and DB Cargo UK win the Rail Freight & Logisitics Excellence award at the Rail Business Awards
Associated British Ports (ABP) and DB Cargo UK have won the award for 'Rail Freight & Logistics Excellence' at the Rail Business awards, which were held on the 23 February 2022, at The Royal Lancaster Hotel in London.
The Rail Business Awards, which were established in 1998 as the first national awards for the UK rail sector, are now in their 24th year. These awards recognise and celebrate achievements in every aspect of the industry, from daily operations, safety and customer service to technical innovation and major projects. 
ABP and DB Cargo UK won the 'Rail Freight & Logistics Excellence' award for the rail freight solution that they provided to Mini cars, to meet the increasing demand for exports from Mini's Oxford production plant to the Far East. In reference to the classic 1969 British film, "The Italian Job", the successful project at the UK's number one automotive port has affectionately been dubbed, "The Southampton Job". This is the second win for ABP and DB Cargo UK, following the Customer Care award at the Rail Freight Group awards last year.
With an investment from ABP of £300,000 in infrastructure at its Port of Southampton, and months of planning and preparation from all parties, Mini cars could be transported into the Western Docks by rail. This cost-effective solution to manage increase volumes of exports of Minis not only minimised any disruption to the supply chain, but also meant a reduction in carbon emissions of 200 tonnes per annum. Since its implementation, the new rail freight solution has already grown to five services per week, enabling both economic and environmental benefits to Mini cars.
Craig Barbour, ABP's General Manager Landside Operations at the Port of Southampton said,
"ABP is delighted to win this prestigious award with our partners, DB Cargo UK, for our rail freight solution for Mini cars at our Port of Southampton. The success of this customer care solution is indicative of the outstanding customer care, collaboration and hard work of all those involved."
As well as providing an award-winning solution for Mini cars, the investment in infrastructure has unlocked new capacity and additional opportunities for ABP's Western Docks at its Port of Southampton.
For more information on ABP's Rail Freight offer, contact [email protected] or visit https://www.abports.co.uk/services/rail-freight/.