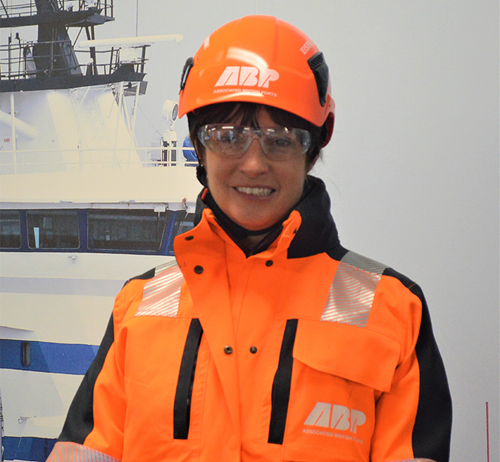 As part of our campaign to promote International Women's Day, ABP will raise awareness around careers in maritime in support of the official theme this year, #EmbraceEquity.  At ABP, it is paramount that our employees have the same opportunities regardless of their gender. This week we are celebrating our female colleagues and their maritime careers in the hope of inspiring future generations to join our thriving sector.
Can you tell us a bit about your role at ABP and what it involves?
Essentially, the purpose of my role is to support, and provide technical expertise and environmental advice to our ports in the Wales & Short Sea region (W&SSP). I support the region to maintain, develop and continually improve all aspects of our environmental and energy management practices in accordance with ABP's policies, management systems, procedures and programmes, and wider environmental legislative requirements.  
Of course, I'll also be promoting our new sustainability strategy – Ready for Tomorrow – across the 16 ports in the region so that we can stay on track with our environmental objectives and help meet our goal to be Net Zero from our own operations by 2040.
What do you enjoy most about your job?
Everything!
In April, I'll have been with ABP for 12 years and no two days have been the same. I have the pleasure of not only working closely with my W&SSP Compliance colleagues, but also with our local and regional colleagues in Engineering, Property, Marine, Projects and Operations.
On any given day I could be meeting our environmental regulators, analysing dredge sediment sample data for one of our Harbour Masters; advising commercial and operations managers on the relevant environmental permits; exemptions and cargo storage relating to a new business opportunity; or investigating biosecurity, drainage, air quality, recycling and hazardous waste storage.
The best part of my job is being able to get out onto all the ports and delve into all the (clean and dirty) nitty gritty of things. I'm still in awe of our pilots and how they board and manoeuvre foreign ships into our ports. The huge volumes of cargo that we handle also never fail to impress me – walking through sheds full of animal feed, wood pulp and steel, and watching our operations colleagues carrying out loading activities will always inspire me.
What did you do before joining ABP?
I've always loved the sea and water sports, so my degree in Marine Geography at Cardiff University was a perfect way to combine my interest in physical geography. As part of my degree I did my third-year industrial placement on the Dover Harbour Board at the Port of Dover. I was the Environmental Assistant there for a year before returning after graduating to the position of Environmental Manager. Whilst in Dover I set up the ISO14001 environmental management system and managed our in-house environmental monitoring program. I also started the environmental impact assessments for what is now Dover's new Western Docks Terminal.
Coming from a Trust Port that deals with passengers, ferries, freight and cruise was very different to the varied cargo operations and multiple sites across ABP, but gave me a good feel for the diversity of the ports industry and the importance of environmental management systems.
I was really lucky when the position came available at ABP and I was able to base myself near my home in Barry, South Wales.
What are some of the challenges and how do you overcome them?
Our 16 ports in the Wales & Short Sea region are based across England, Wales and Scotland – all of which have different interpretations of environmental legislation, and so our online legal register is a really valuable tool for me to keep on top of legal updates.
My biggest challenge used to be trying to get the message across that protecting the environment isn't just a nice thing to do. Thankfully that's not my biggest challenge anymore, everyone realises that environmental compliance is so important. Right now, climate change is our biggest challenge and this is going to affect the whole industry in terms of the different cargoes that we handle, the fuel we use, and how we develop and use our marine and terrestrial spaces.
Sometimes it feels overwhelming to look at the big picture, and I worry about the future environment which I'm bringing my children into – but there's no time better than today to make improvements for tomorrow, and I have a great team of colleagues and together I believe we can make a difference to reduce our environmental impact.
What have been some of your highlights working for ABP?
I joined ABP in a group role which I did for six years, before covering the Wales region, and then the Wales and Short Sea Ports region. I'd like to think that I've built up good working relationships and friendships with colleagues across the business – it's definitely the people that make a place a joy to work in.
A colleague recently told me that we are simply custodians of our ports, some of our ports have been around since the Victorian era, we are simply looking after them for the next generation. The highlight for me is the varied nature of the business and the fact that we have to keep moving with the times – whether that be changes to the economy or adapting to climate change. I'm really excited about the biodiversity improvement commitments that we're going to be legally obliged to fulfil. It will be a great opportunity for employee engagement projects and to get everyone involved across our ports.
Another great thing that ABP has got to offer is its employment opportunities – whatever your interests, whether they may be on land or at sea – not to mention at ABPmer and UK Dredging, there's something for everyone. Our Graduate and Apprenticeship Programmes, as well as our Academy give wonderful opportunities for people to further their careers.
What do you like doing when you're not in work?
I coach the Nippers (7-11 year olds) at Whitmore Bay Surf Life Club. In the winter they train at Cardiff International Pool, in the summer we're on the main beach at Barry Island on a Friday evening.
I've also been cold water swimming for two years now and love it, give me a tide table and I'll be checking when high water is on the weekend and arranging to meet my friends for a swim at The Knap in Barry.
I spend a lot of summer weekends in our campervan with my husband and children in West or North Wales, we're so lucky to have the coast and mountains on our doorstep and my children are still small enough that we can all fit into the converted Ford Transit for a week!
Find out more about our current job vacancies and apply: Associated British Ports Careers (abports.co.uk)