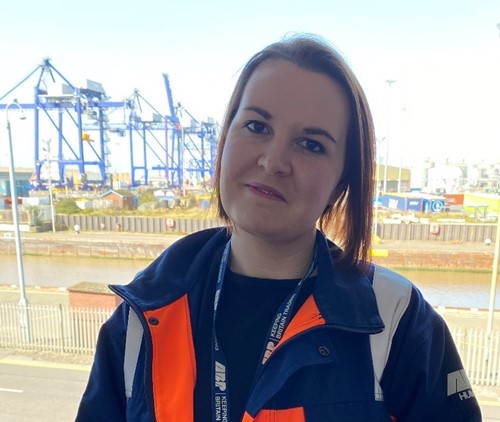 As part of our campaign to promote International Women's Day, ABP will raise awareness around careers in maritime in support of the official theme this year, #EmbraceEquity.  At ABP, it is paramount that our employees have the same opportunities regardless of their gender. This week we are celebrating our female colleagues and their maritime careers in the hope of inspiring future generations to join our thriving sector.
Why did you decide on a port career?
When I joined ABP in July 2015 I was seeking a varied role which would challenge me and provide opportunities for professional development. My role within the Commercial team has provided all of the above and enabled me to gain valuable skills, knowledge and experience.
Can you tell us a bit about your role at ABP and what it involves?
Commercial Manager, Humber for Construction Bulks, Scrap Metal, Finished Steel and Liquid Bulks (south bank). My role is primarily centred upon the account management and growth of the existing customer base and securing new customers and volume into the region.
What do you enjoy about the job?
Progressing opportunities into secured business, the variety of the role and exposure to different commodity sectors and customers.
What are the challenges?
External market factors adversely impacting import/ export volumes. However, when there are challenges there are also opportunities to explore and action.
What advice would you give to anyone looking to enter a career in the port sector?
Relish every opportunity to acquire new skills, knowledge, and experience in a vibrant fast paced industry.
Find out more about our current job vacancies and apply: Associated British Ports Careers (abports.co.uk)