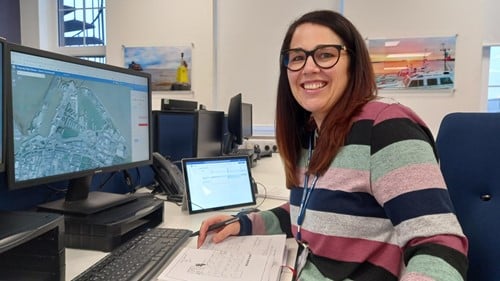 As part of our campaign to promote International Women's Day, ABP is raising awareness around careers in maritime in support of the official theme this year, #EmbraceEquity.  At ABP, it is paramount that our employees have the same opportunities regardless of their gender. This week we are celebrating our female colleagues and their maritime careers in the hope of inspiring future generations to join our thriving sector.  Find out more about our current job vacancies and apply: Associated British Ports Careers (abports.co.uk)
Why did you decide on a port career?
ABP are a major landowner and I saw joining them as a good step in my career progression.  The principle of the day-to-day job was the same as in my previous role, but the scale of what I would be dealing with was so much bigger and more interesting.  The opportunity to work within a Port environment appealed to me as I saw it as a chance to learn how the Port operations contribute to the UK's economy, how the different functions operate and how the property team fits into this.  
Tell us a bit about what you do in your role?
As Senior Surveyor a typical day will involve liaising with and answering queries from tenants, attending both internal and external meetings, undertaking valuations of land and property for new lease or lease renewal purposes as well as for rent review negotiations.  I also undertake inspections of property which are leased out, the benefit of which is three-fold as it keeps me up to date and familiar with the portfolio, ensures that tenants are operating as their leases allow, and enables me to build and maintain a good relationship with the tenants.
What do you enjoy about the job?
The opportunities that the role gives me to meet a wide range of people, working with some great colleagues and the varied and interesting workload. 
What are the challenges?
Meeting tight deadlines, hitting targets and managing the expectations of others, particularly when property transactions involve lengthy legal processes. 
What advice would you give to anyone looking to enter a career in the port sector?
The varied and interesting workload and challenges, together with the sense of being part of a great Team makes the Port a great place to work.  Try it, you will like it!