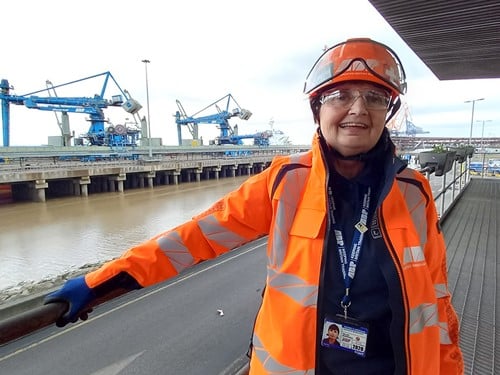 As part of our campaign to promote International Women's Day, ABP will raise awareness around careers in maritime in support of the official theme this year, #EmbraceEquity.  At ABP, it is paramount that our employees have the same opportunities regardless of their gender. This week we are celebrating our female colleagues and their maritime careers in the hope of inspiring future generations to join our thriving sector.
Why did you decide on a port career?
My older brother was employed as a ships agent and sometimes he took me to work with him.  I was fascinated and decided it was the job for me.
When I left school there were no female ships agents, so I took an admin job within a ships agency, then gradually progressed from being the first female ship's agent in the UK (also made it into the press when the first female captain visited Immingham and met the first female ships agent) to the Agency Manager, before jumping ship so to speak and joining ABP.
Tell us a bit about you do in your role?
My main responsibility is vetting ships and deeming whether acceptable to us or not, and planning them in against customers, commodities and completing paperwork/monitoring until ship has berthed, completed cargo ops and sailed.  I also co-control where the product will sit within the terminal and despatching it by train and lorry to the customer. Customs procedures also figure highly on my role as without this a ship cannot discharge/load cargo.
What do you enjoy about the job?
Everyday is different and interesting as you are dealing with people, and companies all over the world.
What are the challenges?
Making sure everything is assigned correctly, and berthing information is correct with regards to depth of berth and draft of vessel. So much depends on this.
What advice would you give to anyone looking to enter a career in the port sector?
It gives a broad spectrum of so many different roles within the ports and as our by-line states we keep Britain trading. The world is literally your oyster when in shipping.
Find out more about our current job vacancies and apply: Associated British Ports Careers (abports.co.uk)