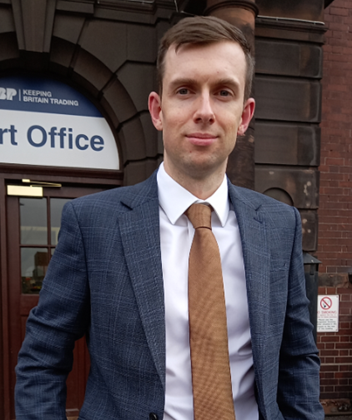 In the year since Greg joined, he has been involved in snapping up further land to aid its ambitious development, delivered on bringing the Kasbah historic buildings back to life and increased the company's rent roll by 20%.
Greg joined the Humber property team following three years plus as Senior Asset Manager for Tilstone Partners, the investment manager for Warehouse REIT plc - a specialist investor in industrial logistics and warehousing where he was responsible for the management of its three million sq. ft.  North West and Yorkshire portfolio.
His wealth of experience in acquisitions, disposals, asset, and property development having previously held roles at Asda and CEG in Leeds, has been put to good stead at ABP, where Greg is responsible for all property activity across the four Humber ports. 
Working closely with colleagues Helen Thomas, Head of Property (Wales and Short Sea Ports) and Ian Henderson, Head of Property (Southampton), Greg has brought his experience in shaping the wider ABP property strategy. It's been a transformative journey with the business taking property as a new pathway for growth. The strategy utilises the landbank around energy, carbon capture, manufacturing, and the freeports as ABP unlocks the future growth for the business starting with its significant land holdings and buildings.
Since October 2022 he has led on unlocking asset management opportunities in the port environment. The Humber property portfolio alone is worth in excess of £1 billion, and the rent roll has increased from £43 million in January to £51 million year to date – there's more value to be realised.
At Humber International Enterprise Park (HIEP) one of the UK's largest allocated industrial employment sites – he has been working with the team to showcase the exclusive proposition to attract multinational occupiers across a range of business sectors who want to achieve supply chain resilience and quick access to global markets.
HIEP has outline planning consent for 4,250,000 sq. ft. of warehousing and logistics uses and 50,000 sq. ft. of leisure and roadside uses, and half of the site sits in the Freeport area. Whilst the market has traditionally focused on last mile logistics - ABP's ports are well positioned to capture first mile logistics driven by import and export volumes, the need for supply chain resilience and global production locations changing. Accordingly, HIEP offers one of the largest development opportunities next to a major UK port to capitalise from onshoring and the increased demand for manufacturing in the UK. ABP will comprehensively re-launch the agency and marketing campaign for HIEP in Q1 2024.
At King George Dock in Hull, at the start of 2023 ABP completed a new five year lease on 30 acres of open storage land to Siemens Gamesa to allow the storage of manufactured wind turbine blades. Greg and the team are working with Siemens Gamesa on the next phase of 37.5 acres of expansion for further open storage which is targeted to be ready for November 2024.
On the acquisitions front, this year the Port of Immingham gained an additional 16 acres of land after purchasing it from DB Cargo UK. The site was a strategic land purchase allowing ABP to extend its legal port boundary and their commercial offering to provide key expansion land for future growth at Immingham.
The site was previously used as railway sidings to support DB Cargo UK's train maintenance and service operation. In more recent years the site has been used less as the freight operator has proactively wound down its operations and as a result, this part of the site became surplus to requirements.
There's huge untapped potential in making the land work effectively for the port. Greg is keen that whatever is done happens under the company's banner of Ready for Tomorrow when it comes to net zero and enabling a green energy transition. He's also very supportive of giving back to coastal communities in terms of job creation and wider economic spend on the back of development.
The open storage market is seen as a future growth sector in the Humber. The team will be launching an ABP specific 'Land in the Humber' website around this at the end of the year. The supply of good quality surfaced land across the UK is outweighed by demand and this market will continue to show strong rental growth for ABP, whether its storage for automotive, construction materials, bulks, or containers.
Aside from land acquisitions and developing underutilised land within the port estates, Greg has been the driving vision for the Kasbah, the historic quarter of the Port of Grimsby, the 90 heritage buildings, eight of which are listed. A programme of works has started to make them wind and watertight, while at the same time hiring the location out for film and television companies. It is a new sector for the port operator to enter, but it's an exciting turn of direction and Greg is fully exploring a new film and TV quarter for the port which has 20 acres of development land. This offers prominent regeneration and place making within the port boundary.
Greg is responsible for a team of five chartered surveyors and has recently taken on a graduate who will be supported by the team whose focus is on estate management, new lettings, lease renewals and rent reviews. Recently he also appointed a new asset management lead, Rob Morton, whose main role is to attract new customer requirements to unlock development opportunities, value add opportunities, and work closely with the Humber commercial team to drive new commercial volume over the quay.
He's also in the market to recruit a Lead Property Development Manager to unlock the delivery of new development, working closely with the Lead Asset Manager.
The Humber ports are an exciting place for new and existing customers to invest, and ABP are strongly placed in what continues to be a supply constrained industrial and logistics sector.
Greg said "ABP's USP is that we can achieve both commercial port revenues through new volume and rent, when we get this right, our ability to make development viable is far stronger than most ordinary developers. What is very exciting, is that we are speaking daily with new international requirements due to the strong interest in the Freeport and its associated incentives, it will be the role of the new hires to turn such interest into reality. There is a huge amount to go after, onshoring is now a real thing and I believe manufacturing is the new e-commerce for the UK industrial and logistics market".