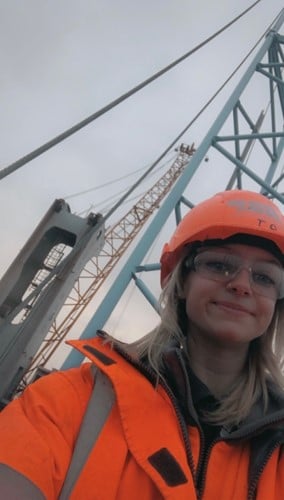 As part of our campaign to promote International Women's Day, ABP will raise awareness around careers in maritime in support of the official theme this year, #EmbraceEquity.  At ABP, it is paramount that our employees have the same opportunities regardless of their gender. This week we are celebrating our female colleagues and their maritime careers in the hope of inspiring future generations to join our thriving sector. Find out more about our current job vacancies and apply: Associated British Ports Careers (abports.co.uk)
Today we met with Abbie Jones, a Shift Technician at ABP Southampton.
What does your role at ABP Southampton involve?
My job role is a Shift Technician. An average day for me can vary greatly – one day I might be attending a breakdown on one of the eight Gottwald cranes, or on other days I could be putting airbridges into the cruise ships that visit our port. However, the port has  hundreds of assets and equipment that needs to be maintained and looked after, so every day is usually quite different.
What do you most enjoy about your job?
There are many reasons why I enjoy my job, one is the people. It really makes a difference when the people you work with or interact with on a daily basis are friendly and always willing to help. I also enjoy working as part of my team which play an important part of keeping Britain trading, whether this be preparing berths for cruise ships or attending reactive jobs – we play a part in making this happen!      
Where did you work before ABP?
I was actually an electromechanical maintenance apprentice for ABP for around 4 and a half years – I left school at 16 and went straight into an apprenticeship. Through this I was able to develop all the skills and knowledge I have and use to this day. Through ABP I also managed to complete my HNC in General Engineering – this was a massive achievement for me.  
What are the highlights of working for ABP?
There are many benefits for working for ABP. There is a really good pension plan in place and also private medical healthcare.  Training is also a good example, I have been put on many training courses to learn new skills and have opportunities to learn even more.