On a summer's evening in late June, London's popular Radio Rooftop bar was transformed into a forum for the exchange of ideas, as leading businesses, policymakers and media were brought together by one thing they all had in common – their connection to ports.
If you open a map of London, place your finger on Parliament Street and move North, you will soon reach Trafalgar Square. Should you continue to move Eastwards, you will find the capital's financial heart, the City of London. As you do this, you are likely to discover that these two points – the Cities of Westminster and London, are linked by a wide, bustling street called the Strand. Steeped in history, this street is where many of the capital's finest theatres are located. It is a place that symbolises connection and the flow of ideas between the worlds of policymakers and businesses; between financial and policy ambition which, through collaboration and mutual understanding, can ensure the best future for Britain and its people.
The Strand is also the home of the 'Radio Rooftop' bar, which is where ABP, the UK's largest ports operator, invited its guests from different spheres, including businesses, policymakers and the media to its annual 'Summer Reception'. A very fitting location to encourage dialogue, the Radio Rooftop owes its name to a historic event, as just a few steps down the road, the BBC launched Britain's first national radio broadcast in 1922. At that point, the BBC was just starting out but thanks to its ambition for Britain, it has grown to support thousands of jobs and bring the news to the public. ABP shares this ambition for Britain. As an island nation, 95% of UK goods are moved by sea and ABP's ports support a quarter of this trade. ABP's 21 ports are key drivers of economic growth and contribute £13 billion to the UK economy and support over 166, 000 jobs across the country.
Opening the evening with a warm welcome, ABP's CEO, Henrik L. Pedersen noted the historic significance of the location and introduced the first special speaker, Nusrat Ghani MP, former Maritime Minister who has done a lot to advance growth, sustainability and diversity in the sector. From launching the UK's 'Maritime 2050' strategy, which sets a path to greater prosperity, innovation, equality and decarbonisation, to forging strong partnerships and supporting greater diversity, she has been a visionary and instrumental in bringing about positive change.
Addressing a packed audience, the Minister spoke about all the fantastic achievements of the maritime sector so far and Government's ambitions to achieve even more in future. Nusrat Ghani MP, Minister of State, Department for Business and Trade, commented: "It was great to hear from such a wide range of industry players at ABP's event in London to understand more about the opportunities and challenges faced by business leaders and the critical role of ports to the UK economy." 
"I welcomed the chance to share with the audience some of the major milestones the Government has achieved in the past years and how we look forward to continuing to work together to deliver the UK's clean energy transition." 
Broadcaster and international affairs correspondent Anne McElvoy was next to take the stage, with her own take on what it means to be ambitious for Britain. The journalist, whose career includes working for the Economist radio, BBC, Evening Standard and Politico, briefly touched on her own connection to ports, having covered many stories related to them and urged everyone in the room to signal an openness to the world in order to encourage more progress and economic growth going forward.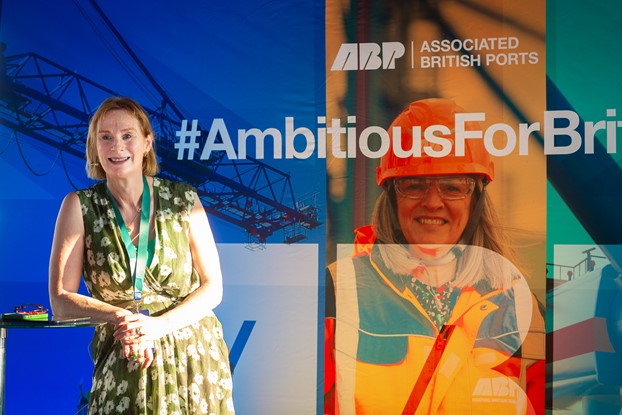 During the evening, ABP also proudly supported and encouraged guests to donate to the 1851 Trust, a specialist education and sports charity committed to inspiring young people globally through STEM learning and climate action. Positive action on combating climate change and enabling the UK's clean energy transition are two issues ABP is working hard to support. It is ambitious for sustainability, as it set out in its 'Ready for Tomorrow' sustainability strategy, a plan to invest around £2 billion in reaching net-zero from its own operations by 2040. More information about ABP's sustainability strategy can be found here: Associated British Ports – Ready for Tomorrow (abports.co.uk)