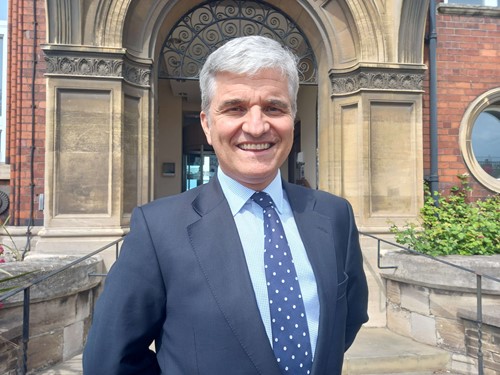 In 2020 Associated British Ports signed up to the Armed Forces Covenant (AFC), part of a national commitment to support the Armed Forces and Veterans Community. Associated British Port's Head of Marine Humber, Paul Bristowe, served with the Royal Navy for 25 years where he flew Sea King helicopters before moving into a succession of warfare roles at sea. Here he shares his thoughts on why the Armed Forces Covenant is important.
The Armed Forces Covenant that ABP pledged to support is scheme that recognises those who served, as a regular or a reserve, and acknowledges the value of their contribution to security and society.
In ABP Humber we employ around 1,000 people – many of whom are armed forces veterans, military spouses or partners and reservists. They all have a story to tell and bring a wealth of skills and experience to their roles within the port. This includes high standards of professionalism, values driven behaviours and self-discipline.
My own military career spanned a range of appointments from tactical to strategic - culminating in Command of HMS Somerset. After a period of operational sea training, we sailed the Type 23 Frigate on a seven-month maritime security deployment undertaking counter-piracy, counter-narcotics and escort operations in the Indian Ocean, Somali Basin and Strait of Hormuz. My military career shaped my approach to leadership and equipped me well to transition into management roles within a global oil & gas company before joining ABP in 2022.  
In the Humber, the Marine team comprises of 300 staff, with responsibilities including docks, hydrography, launch crews, data centre, vessel traffic service and pilotage. Approximately 10% of the team have a military connection.
Humber AFC activities include sponsorship of the annual Armed Forces Day held in North East Lincolnshire and working with the Grimsby & Cleethorpes and Hull Sea Cadets. Our Regional Director Simon Bird is President and other colleagues serve the trust as chairman and volunteers. The cadets support ABP at our heritage open days in Grimsby and the Remembrance Service at the Grimsby Memorial. Sea Cadets and other military cadets across the UK offer young people opportunities and experiences to grow teamwork, confidence and skills within safe, supportive environments.
Simon Bird is also an Honorary Captain in the Royal Naval Reserve and brings his wealth of experience to bear as an ambassador for the port sector.
In ABP we uphold the principles of the AFC in the work we undertake with the armed forces community and increasingly at a strategic level strengthening the relationship between the Admiralty and the wider maritime community.
There will always be a place at ABP for those who served in the Armed Forces – it is very much a part of who we are.