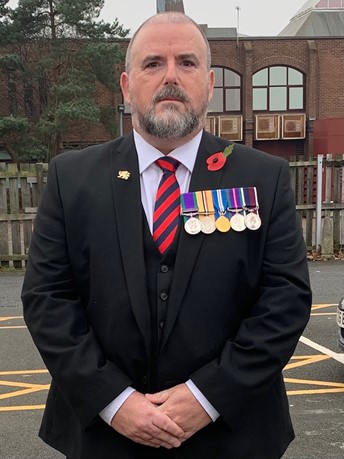 What was/is your role within the armed forces and how long did you serve?
I served for 22 years in the Royal Air Force Police. I had a wide-ranging career and trained originally as a Police Dog Handler but later trained in and carried out a multitude of roles including in Counter Terrorist Policing, Nuclear Security, Police Motorcyclist, Computer Security, as a Sexual Offences Officer and latterly a Serious Crime Investigator in the Special Investigations Branch. I left in 2009.
What attracted you to the armed forces in the first place? What did a typical serving day look like?
I'll be honest, I needed a change at the time and happened to walk past the recruiting office. No two days were ever the same and I served at several RAF Stations during my time including several bases in the UK, starting at RAF St Athan near the Port of Barry, Northern Ireland, Germany, Italy, USA, Greece, Iraq and Eastern Europe.
Each tour was completely different but in my last role I could find myself either in a car (or plane), going off to a crime scene or to arrest and interview a suspect, giving crime reduction advice or catching up on the complex case files that we managed. During the last six years of my career, I was fortunate to be in plain clothes and had a beard, which raised the odd eyebrow here and there. This is quite funny as obviously these things are not unusual in the civilian sector.
What's the most exciting experience you've had whilst serving?
I've been fortunate to have visited several disparate locations throughout my time, each with its own logistical and personnel security challenges. I've spent days on end in the back of a Hercules (a four-engine turboprop military transport aircraft) carrying out Air Transport Security duties in some weird and wonderful places, stopped all the traffic in downtown Hamburg whilst doing motorbike abnormal load escorts of unserviceable RAF Tornado aircraft heading to the docks and been fortunate to be introduced to several overseas Royals whilst doing VVIP escorts at the Royal International Air Tattoo. My proudest time was whilst in Iraq between September 2004 – April 2005 whilst based at Basrah, including a month long 'camping trip' between Fallujah and Baghdad in November 2004 where we were subjected to daily rocket attacks. Our role was to investigate all deaths and prepare evidence packs for onward transmission to HM Coroner back in the UK following the death of any serviceman in theatre. Trying to do your own job or indeed just taking a break to have a shower whilst being subjected to the same bombardment that has caused the death of others has somewhat of an attention sharpening effect, but I'm proud to say I played my small part in letting families of the fallen understand what happened to their loved ones.
What does your current role within ABP include and how long have you been with the company?
As Regional Security and Resilience Manager for Wales and Short Sea Ports, I see my role as supporting my Port Facility Security Officer (PFSO) colleagues around the region by providing advice and helping shape the direction forward of the security function across WASSP. I've been with ABP since late June 2022.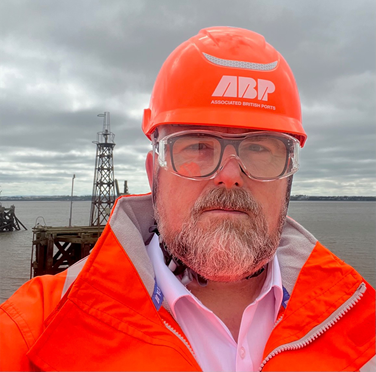 How does your previous role within the armed forces complement your current role at ABP?
I think the 'just do it' mentality and intense team bonds that are formed within the military have helped me in this transition. I am fortunate that the 'team' around me in ABP have been very warm and welcoming and I'm glad to say I feel very much part of the team already.
If you could provide one piece of advice to those in the armed forces looking to pursue a career at ABP, what would it be?
Research the role and look at the essential and desirable criteria.  Then, when choosing your resettlement courses, look to do relevant courses that provide transferable skills that ABP are looking for.  As an example, if ABP were looking for a Security Manager (hopefully not for a long while!), you could look to do a security management qualification.