Interview with Craig Stephen, ABP Head of Containers, Humber,
in the lead up to International Men's Day 2022.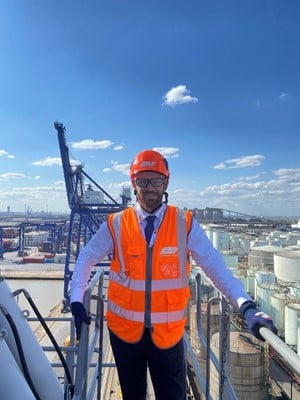 As part of our campaign to promote International Men's Day this year, ABP is aiming to raise awareness around the importance of looking after the mental health and wellbeing of men and boys. You are part of the ABP Gen network, which is one of the four employee diversity and inclusion networks within the company. Could you tell us more about the group and its aims?
Our diversity and inclusion networks are a timely introduction to our business and the maritime industry as a whole, which unfortunately still has a long way to go when it comes to achieving diversity in the workforce, especially in front-line operations.
By being part of the ABP's Gender network, I hope to effect positive change which will lead to attracting and retaining a more diverse mix of people into our front-line staff. I believe we can achieve this through reviewing our workplace facilities and our policies to ensure that we are and equal and fair employer for all.
In addition, I firmly believe that by increasing the level of diversity in our workplace we will create an even greater place to work which will in turn benefit us all physically and mentally regardless of gender.
Can you tell us more about your career journey with ABP?
2022 marks my 20th year working in ports. I joined ABP in 2016 as an Operations Supervisor at the Finland Terminal in Hull where I worked for a year. I then moved over to Immingham as a Senior Operations Supervisor in Dry Bulks and switched to an Operations Manager role a few months later.
I ran the Immingham Bulk Dept for three years and loved every minute of it. Highlights included traveling to Ghent and Hamburg to collect 'Best Bulk Terminal' awards from the International Bulk Journal, a global industry magazine.
I joined the Humber Commercial team as a Commercial Manager in late 2019 in what turned out to be the beginning of nearly two years working from home as COVID hit in early 2020.
My current role is back in operations as Head of Containers overseeing Immingham and Hull Container terminals, a team of 160 full time employees.
I hope that I can serve as a real example of the opportunities available across the business and its different functions for those who would like a progressive career with ABP. 
What does a typical day at work look like for you?
A typical day in operations means that no two days are the same! My focus is on the safety of everyone working at the container terminals and the quality of our service delivery to our customers – in that order.
We are in the process of trialling and incorporating some really modern technology into our operations. Moving on from the basics of PPE/RA/SSOW we are now looking at behavioural and cultural safety.
The container terminals run some of the biggest equipment within ABP's operations and as such, we have a real focus keeping everything in service. In cases when equipment breaks down , our engineering colleagues on the Humber do a fantastic job of getting us operating again in quick time!
My role essentially is ensuring our people are safe and our customers receive the service we have promised!
Are there things you look forward to the most every day and if yes, what are they?
One thing I love about being back in operations is the leadership aspect of my job. Leadership to me is much more than running the operation, it's about people and we have many different types of people from many different backgrounds within our team which makes my role both challenging and rewarding in equal measure.
After 20 years working in ports, I still get a buzz from being out on the quay or up a crane, I love being around our ports and I love to show our customers and visitors what we do.
If you could give your younger self one piece of advice to help improve your health and wellbeing, what would it be?
Get to bed early, get up early!
Find out more about the exciting careers ABP has to offer: Associated British Ports Careers (abports.co.uk)