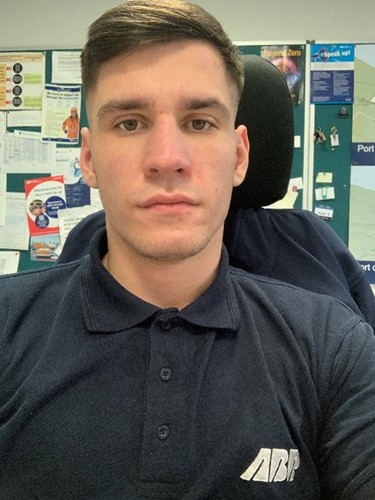 Working here is stable because as an island, we'll always need shipping. My apprenticeship was very broad covering a variety of roles, so I've been able to get a really good view of the business and almost an A-Z of how the port works. I've never felt stuck in one place.
One thing you need to be is flexible; the job is very dynamic, and things change all the time. The nature of the industry means everyone needs to be pulling their weight so you can't be work shy and sometimes you'll need to work longer to get the job done.
If you want to stand out and get recognised, putting the hours in on your study from the start will give you opportunities. My apprenticeship was meant to be 3 years, but I completed it sooner because I was keen to progress as quickly as I could.
Something that worked in my favour when I applied was the preparation time I put in. I created a folder that expanded on my CV with examples to really showcase how my skills matched the requirements. I gave them the folder to keep, and I had feedback that they were impressed with that.
If you're someone who works hard and wants a career that can take you in lots of different directions, I'd definitely say have a look at the ports industry. I'm already progressing to an assistant dock master and looking ahead, I'll be working towards becoming a harbour master.