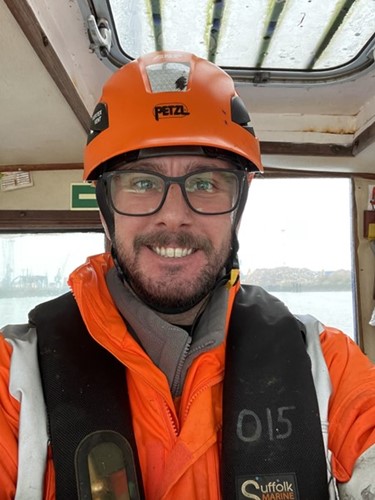 What did you find most appealing about doing an Upskilling Apprenticeship at ABP? How did you hear about the opportunities available? 
I found out about the Apprenticeship from searching for jobs online. I was wanting to work in the Marine environment but didn't really know what role I wanted. But after looking through all the details of the PMOO, it had everything I wanted to do, as there is a great educational involvement but also a good amount of hands-on learning.
It is an amazing insight into the port world and stepping stone into a new career and potential for working up the ladder with promotions.
What does a typical day at work look like for you? How has your apprenticeship changed your career?
On my Marine days, I could be doing any number of things. This could be checking all the workboats are in working order, checking all the life buoys around the port are compliant, checking the bollards are safe for mooring, going down to the river to change the navigations buoys, cleaning off and maintenance of the buoys, going in the truck along the river for mud sampling of the siltation of the river, general maintenance and painting or weeding of the lock to many other tasks that are needed for the safety and functionality of the port.
On my Watch Tower day, I arrive and do a handover of the watch involving upcoming ship movements and any relevant information needed for the watch. Once handover is complete, I cross check our boards with the handover sheet and the vessel movements sheet to see what I have for the day. Then I would ring the agents, berthing and Harwich VTS (pilot station), boatmen and if needed Svitzer (Tug station) to make sure all ship movements are known and what times they will be happening. Throughout my shift I maintain a watch of the VHF for yachts which are wanting to enter or exit the lock.
As part of the job we operate the lock for pleasure crafts and also have 1 commercial ship which transits the lock. We also have to open up the lock gates to fill the wet dock as we don't have any impounding pumps so when the water levels, I open up the gates until the end of high water then have to close the gate to keep as much water in the wet dock as possible.