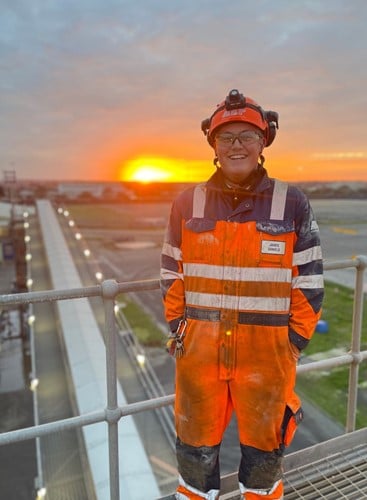 What did you find most appealing about doing an Upskilling Apprenticeship at ABP? How did you hear about the opportunities available? 
I chose an apprenticeship because I wanted a career in engineering, but I wanted to gain the experience and learning required whilst working in a practical setting, rather than in a classroom. This way of learning worked for me. I applied using the government website after reading the ABP listing that stood out to me. The application process was a four-stage process that involved a telephone interview, a theory assessment, a practical assessment and an in-person interview. Whilst nerve-wracking, the high standard of this process meant I knew ABP was a company I wanted to work for.
What does a typical day at work look like for you? How has your apprenticeship changed your career?
In everyday working life, I work in the in-dock engineering department which looks after bulk and container cranes, bulk goods terminals, dock water supplies, the lock gates and plant and equipment to name a few. I am required to work autonomously within a core group of mechanical engineers that cover planned and preventative maintenance activities and breakdown work.
If you could give some advice to people who would like to follow in your footsteps and do an upskilling apprenticeship, what would it be?
My biggest piece of advice would be to ask as many questions as possible. Most people in the industry started in the exact same place as you at one point!