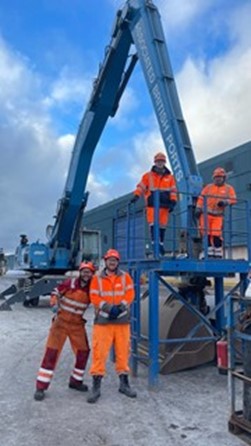 What did you find most appealing about doing an Upskilling Apprenticeship at ABP? How did you hear about the opportunities available? 
I first came across the ABP Upskilling Apprenticeship through showing an interest at work in project work. My team at ABP noticed that I had an interest not just in operating machinery, but perhaps in maintaining it. ABP then offered me an apprenticeship and sent me to Exeter college in a joint role between operations and engineering.
I was lucky enough to also be offered the plant and equipment training position. Now 2 years on, I'm running the workshop with a colleague in a similar position with a thirst for the job. My ability is tested daily as my competence developments, and the job is more rewarding than I ever thought possible just a short time ago.
What does a typical day at work look like for you? How has your apprenticeship changed your career?
Typical days are long gone – each day brings a new challenge and opportunity to further develop skills.
Alongside training I'm able to combine my engineering knowledge with operator experience and pass it to newcomers. I thought I liked the aspect of finishing work and not giving it a second thought until the next shift, but this opportunity has left me striving to solve the next day's problems as soon as my day ends.
If you could give some advice to people who would like to follow in your footsteps and do an upskilling apprenticeship, what would it be?
I was constantly asked at home when someone was looking at a project I was working on - "what do you do?", I would reply honestly with saying 'Port Operator'. Port Operator is a job to be proud of with a lot of responsibility, but the look of the person hearing it made me think I was in the wrong job. However, there is under skilled and overconfident everywhere. If you're doubting that you can change career later in life, it may just be confidence that's lacking.