Sustainability: at the heart of a green recovery
ABP is committed to making sure we minimise the impact of port operations on the environment, ensuring a sustainable future.
ABP is committed to reducing the Greenhouse Gas (GHG) emissions arising from port activity. ABP's absolute carbon footprint has decreased more than 35% since 2014, with some ports achieving reduction rates in excess of 40%. Across the group, ABP continues to deliver major investment in solar and wind generation to maximise the use of renewables for powering our business.
Last year, ABP generated around 17GWh of renewable electricity, enough to support many of our own and our customers' operations, in some cases delivering a healthy surplus to the National Grid.
ABP has also become one of the largest corporate producers of solar energy, with solar farms in locations such as Barry and Silloth, and large areas of solar arrays at other locations such as Southampton and across our Humber ports, with many installed on the rooves of our warehouses and terminals. In fact, ABP installed the largest commercial rooftop solar array at our port of Hull.
In all our ports, we continue to invest and roll out programmes to promote energy efficiency, including the installation of low-energy LED lighting.
A Sustainable Future 
ABP is committed to making our port operations as sustainable as possible, and since 2011, we've invested over £55 million in sustainability measures.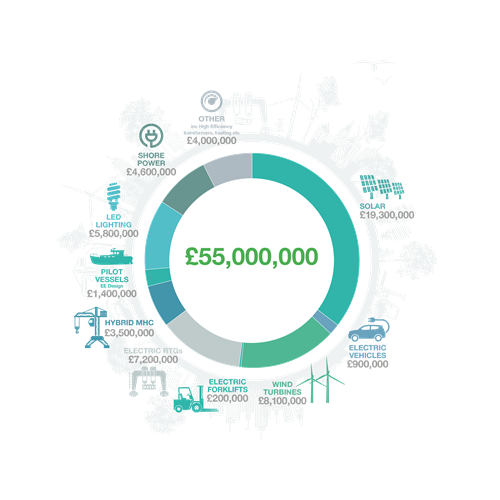 In terms of sustainability, ABP is operating on three levels. We are:
We have reduced carbon emissions by over 35% since 2014
Since 2014, ABP has reduced its greenhouse gas emissions by more than 35% across our whole port group, with some of our ports achieving reduction rates in excess of 40%. Across our port group, sustainability measures are contributing to decarbonising our operations.
We're investing in renewable energy generation projects
ABP continues to deliver major investment in solar and wind generation to maximise the use of renewables for powering our business. In fact, 17 of our 21 ports have renewable energy generation projects and, by the end of 2021, ABP will have 29 MW of operational wind and solar assets; generating approximately 19% of our total annual consumption.
By 2025, our aim is to gain in excess of another 40 MW of wind and solar being commissioned, along with some energy storage. This will help facilitate further electrification of dockside equipment and transportation at the ports, provide additional zero carbon power for our customers and potentially also power production of zero or low carbon fuels, such as green hydrogen electrolysis.
We've installed the UK's largest commercial rooftop solar array at our Port of Hull
In 2020, ABP completed the UK's largest commercial rooftop solar array at our Port of Hull, which produces 6.5MW energy, reducing carbon emissions by 2,600 tonnes every year.
Our 21 ports have gained ISO 14001 Certification for Environmental Management
All 21 of our ports gained an ISO Certification in Environmental Management in February 2021, and we continue to invest and roll out programmes to promote energy efficiency, including the installation of low-energy LED lighting. ABP also ensures that all our newly procured sheds have the option for solar panels.
We're investing in electric vehicles and electric/hybrid cranes across our ports
All our newly procured cranes, vehicles or mechanical equipment at ABP either have regenerative power or are hybrid and/or electric.  At our port of Southampton, our fleet of pilot vehicles are all electric, and we're also renewing our fleet in the Humber with electric vehicles. We've also invested £9 million in a fleet of more fuel-efficient pilot boats, that improve consumption of power as well as reduce emissions.
ABP is a leading partner in the future of green hydrogen production for the maritime industry
ABP has become partners in a ground-breaking feasibility study into the production of green hydrogen for use at our Port of Immingham, the UK's largest container port by tonnage.
At ABP, we're holding ourselves to account in every way. In May this year, we announced a first deal of its kind with our shareholders, Aviva Investors and BNP Paribas, whereby we were offered a discount on our hedging rate provided we meet certain sustainability-linked KPIs.
Our history with TimberLINK
ABP has a long history of helping customers reduce carbon emissions; an outstanding example of this is TimberLINK at our Port of Troon, Scotland, which we've been managing for 21 years. We handle 100,000 tonnes of roundwood timber, removing around one million lorry miles from roads between Argyll and Ayrshire every year and reducing carbon emissions by more than 1,200 tonnes every year.
Horizon, the 'green' cruise terminal
In September 2021, we officially opened our new green cruise terminal at our port of Southampton, complete with its solar array and shore power connectivity, meaning zero emissions at berth.
Investment in infrastructure in the Humber
To reduce carbon emissions, not only is it important to move more by freight and rail but also to review the UK port of entry. Investing in infrastructure in our four ports in the Humber enables our customers to make choices that reduce costs and carbon emissions. For example, a comparative study by the University of Hull Logistics Institute demonstrated how moving just 10% of cargo from southern ports to the Humber could save some 100,000 tonnes of carbon emissions annually, by importing goods via ports closer to their final destination.
ABP has been investing boldly in infrastructure in our four ports in the Humber to enable our customers to make choices that reduce costs and carbon emissions.
Supporting the UK's progress towards decarbonising the economy, through developing renewable energy sources and large-scale decarbonisation projects
We believe our ports are truly at the heart of the UK economy; arteries for international trade, they connect the nations' importers and exporters to global markets.
We're investing millions in supporting the offshore wind industry
We are supporting the UK's progress towards decarbonising the economy by investing in green technologies and our ports that support the offshore wind industry. With over 30 years' experience, we provide Operations and Maintenance for over 50% of the UK's Offshore Wind activity.
Following the success of our £310 million joint investment in a new offshore wind facility at Green Port Hull, we are planning to replicate this model at our port of Lowestoft with the launch of the Lowestoft Eastern Energy Facility, also known as LEEF. Encompassing sites to the East and West of the Harbour, LEEF is tailored to the offshore energy industry's latest requirements and creates a highly competitive offer for ABP's customers.
We firmly believe that the renewable energy sector will be the single biggest influence on the local economy for generations, creating thousands of new jobs along with a wealth of opportunity for local people and business.
The future of hydrogen and Carbon Capture Storage and Use (CCSU)
ABP's aim is to tackle the challenge of decarbonising maritime, for which electrification is not a viable solution. ABP is also looking at the future potential of hydrogen to drive reduction in carbon emissions within the maritime industry, which is of keen interest to our ports, especially in the industrial clusters.
We are a partner in Zero Carbon Humber, which is a consortium of leading energy and industrial companies and academic institutions with a shared vision to transform the Humber region into the UK's first net-zero carbon cluster by 2040. Together, we are working to deliver low carbon hydrogen production facilities and essential carbon capture usage and storage (CCSU), implementing region-wide infrastructure that will enable large-scale decarbonisation across the country's most carbon intensive region. We have partners and supporters involved in every aspect of the value chain, including energy generation, onshore and offshore infrastructure owners and developers, industrial users and supply chain specialists.
Similarly, ABP is involved within the South Wales Industrial Cluster, a consortium seeking to decarbonise industry and power generation as part of the transformation to net zero. This will include CO2 shipping to allow capture of transport of industrial emissions and large-scale low carbon hydrogen production to encourage fuel switching. With the appropriate business models in place, there will be strong markets for alternatives fuels, like low carbon hydrogen and ammonia in and around our ports.
We've also begun a feasibility study around the production of green hydrogen which will help develop our vision to decarbonise the Port of Immingham in the Humber, in partnership with Uniper, Siemens Energy, Toyota Tsusho, and funded by the Department for Transport. With this funding, we plan to develop circa 20 MW of green hydrogen production for use at the port, either as a direct replacement to diesel and heavy fuel oil, or for the production of clean shipping fuels. Our port of Immingham could be the first step in the uptake of hydrogen as an alternative to fossil fuels across the whole maritime sector.
Slider counter
Number of slides
Local air quality
ABP is working hard with customers, shipping lines and stakeholders to deliver improvements in air quality. We have installed one of the largest privately-owned networks of air quality monitoring systems in the UK. In June 2018 the Port of Southampton was the first ABP port and one of the first ports nationally to publish its air quality strategy, ahead of an ABP group strategy which is currently being developed.
Biodiversity
ABP and our teams continuously strive to protect and promote biodiversity. Of course, with our 21 ports in a wide range of locations across the UK, the work we do varies enormously.
For example, at our Port of Lowestoft, we have invested in upgrading the Harbour Wall, which has been a successful breeding site for the local Kittiwake population, which is one of Suffolk's two established colonies. These sea birds are considered to face risk of extinction and therefore are a protected species.
At the Port of Grimsby, ABP has invested in a five-hectare site designed to mitigate the effects of habitat loss on curlews and other wading birds. One of the UK's most important conservation priorities, the curlew has been in decline for many years due to climate change, predation and loss of breeding habitat. The scheme is already showing excellent results, with ecologists recording 225 Curlews, 153 Redshanks and 13 Dunlins at a recent count.
A further initiative has just begun on the north bank of the Humber, in a joint venture between ABP and the Environment Agency. The Outstrays to Skeffling Managed Realignment Scheme will provide flood protection while creating 175 hectares of intertidal habitat and 75 hectares of wet grassland habitat.
Another example is at our Port of Hull, whereby we transferred the ownership of natural woodland to Hull City Council to preserve its beauty and enhance accessibility for residents. Since taking over the site, Hull City Council has facilitated re-wilding projects and youth projects to improve the area of wildlife, fostering environmental and land management skills.
In addition to these specific local projects, teams from across ABP regularly volunteer to clean up local beaches and coastlines.
Our commitment to our environmental obligations is central to our activities; therefore, our Environmental Policy (below) seeks to ensure we manage our obligations to the environment in a morally responsible manner, whilst continuing to develop our business to meet the needs of our customers.
ABP's key environmental policy commitments are listed below:
Comply with all environmental legislation and other compliance obligations that relate to our business.
Protect the environment, including preventing pollution and contamination and minimising disturbance by ensuring that each business unit has the best tools in place to operate effectively.
Respond to environmental incidents or emergencies in order to reduce our impact upon the environment.
Provide appropriate and relevant training and environmental information to all colleagues working for or on behalf of ABP.
Strengthen our business resilience and prepare for the consequences of climate change.
Target continual environmental improvement and set measurable environmental targets and objectives.
Pursue the efficient and responsible use of natural resources ensuring that energy, water efficiency, waste and carbon reductions are integrated into business decision making.
Manage and aim to reduce the environmental impacts of our operations, through a process of risk assessment, audit, review, training and guidance.
Communicate and engage on environmental matters with employees, stakeholders and port users.
Manage all of the above via a compliance management system, which is integrated with other business processes.
How we manage the Environment
At ABP, we endeavour to manage our obligations to the environment in a morally responsible manner, and develop our business to meet the needs of our customers in a way which has due regard for sustainable development both for business and the environment.
We have a centrally-led environmental policy and compliance management system that targets our efforts in a coordinated way and provides support and guidance to each of our business units. The key themes of our environmental management can be summarised as:
Managing risks: The key mechanisms by which we manage our operational risks are by providing information and guidance, developing, risk assessments, and undertaking audits of our operations. We also ensure all our ports are ready for when an incident does happen, with well tested plans in place.
Resource Efficiency and Carbon reduction: Carbon management, waste reduction and improved resource efficiency remain key business priorities for ABP, with resource efficiency teams across the company looking at continual improvements that can be made.
Developing responsibly: We seek to ensure our developments are designed to reduce environmental risk or impacts during their construction and operation, and we have many examples of where we have successfully balanced the needs of nature in the highly protected estuaries and coastline surrounding our ports with the need for port development.
Responsibilities and training: The ultimate responsibility for sustainable development issues lies with our Chief Executive, who is supported by the Quality and Compliance Director, the group's central environmental team and environmental coordinators in each business unit. Our environmental team all receive training and support across a wide range of environmental subjects from introductory programmes to more specialised areas such as waste management.
We also work closely with ABP Marine Environmental Research (ABPmer), which has particular expertise in assessing any impacts new developments may have on hydrodynamic and sedimentary processes and offers a full range of services including navigation, mooring, and dredging.
Beneficial use of dredged material:
Within ABP, we aim to facilitate beneficial use opportunities for our dredged material as far as we can. We maintain a central register of our dredging and disposal operations – therefore if you have a project you are planning that you think could incorporate dredged sediments please get in touch: [email protected]
Managing operational risk
The key mechanisms by which we manage our operational risks are by providing information and guidance, developing, risk assessments, and undertaking audits of our operations.
We ensure we have fit for purpose centrally led policies and procedures for all sites to follow, to ensure our operations remain legally compliant and we seek to reduce environmental risks.
Environmental risk assessment of our operations is also a central part to our compliance management system and the continuing rolling programme of internal audits we carry out to identify continual improvement opportunities. We place a great deal of emphasis on sharing expertise and best practices across our ports to ensure we're operating at best consistently across the company.
The delivery of the correct training and development opportunities is also key to managing our environmental risks, to ensure all our personnel have the required competencies, especially for those with compliance responsibilities.